The Labs and Workshops of CEK are well maintained and state of the art ones. They include Computer Lab, Electronics Lab and Electrical Lab. The infrastructure in these labs are adequate enough to prepare the students to deal with modern technologies through regular lab sessions under the supervision of experienced and highly qualified Technical staff and skilled assistants.
                                                COMPUTER LAB                                                
The college provides a well equipped computer lab with high speed internet connectivity:
ISP:-NIC
Connectivity :- 100 Mbps
Channel :- Leased Line(Optical Fiber)
Wifi Access Point :- 1
Softwares(Operaing System/Application Software)
Windows 7

Windows 8

Windows 10

Ubuntu 16.04

Language Lab
Computer Systems, Printer & Switches 
Desktop – 60

Laptop – 1

Document Scanner – 1

Printer – 2

Dot Matrix Printer – 1

Multimedia Projector – 1

24 Port Gigabit Network Switch – 3

8 Port Gigabit Network Switch – 1
UPS
Hykon 5KVA – 2

Hykon 7.5KVA – 1
Digital Signal Processing Lab
The DSP lab deals with the basics of digital signal processing on a digital signal processor. Laboratory courses on hands-on experiments are an integral part of engineering education. The college provides a well equipped Digital Signal Processing lab,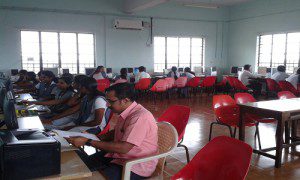 which have the following specifications.
 HARDWARES
Digital Signal Processing Kit – TM1320C6713 :- 10 Nos

8051 micro controller Kit :- 9 Nos

Arm micro controller Kit :- 1 Nos

AVR Kit :- 1 Nos

Digital Storage Oscilloscope :- 1 Nos

Universal Programmer :- 1 Nos
SOFTWARES 
Lab  View 8.6 :- 10 Users

Signal Processing Tool Kit :- 10 Users
 DOWNLOADS